A nefarious alchemist and an avid psychonaut with salt-pepper look. Embracing his ADHD superpower, and often evangelizing cybersecurity & mental health in the wicked wild world.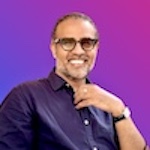 Rishi Narang has more than 18 years of experience in information security which includes research on vulnerabilities, protocol analysis, Red Team, evolving attack vectors and signature development for network & host-based IDS/IPS products. In the past, he has worked as consultant and researcher for firms like FireEye/Mandiant, Gemalto, Qualys, Deloitte and Trend Micro. He has worked closely with application developers following the proactive - sooner the better approach. He recently got diagnized ADHD, and is now trying to make sense of the world with his newfound neurodiverse superpower.
In his personal time, his primary focus is to evangelize in the field of cyber security and is enthusiastic about Mental Health. His works have been invariably accoladed, and recognised in the categories of 'best innovation' and 'industry recognition', with his past firms. He prefers reading, scripting, tooting (not tweeting) and writing articles here at his personal weblog cybersins.com which focuses on sharing knowledge & encouraging budding enthusiasts.
Specialties:Cyber Psychology, Mental Health and Neurodiversity.
Public Speaker:CIFI Security Summit Hong Kong 2017, NullCon Goa 2013, OWASP (Mumbai Chapter), Null Meets (Delhi Chapter), Bangalore Cyber Security Summit and eSurakshit
He has been quoted in Reuters, Forbes, SC Magazine, ZDNet and CNET, InformationWeek, The Register and many other main stream media. He has been an author and advisor for Hakin9 and PenTest Magazine(s).
DisclaimerAll posts and opinions are ephemeral and solely my own! I err therefore I am human and my blog reflects that humanity. Read More